Brown Babies: The Mischlingskinder Story (DVD)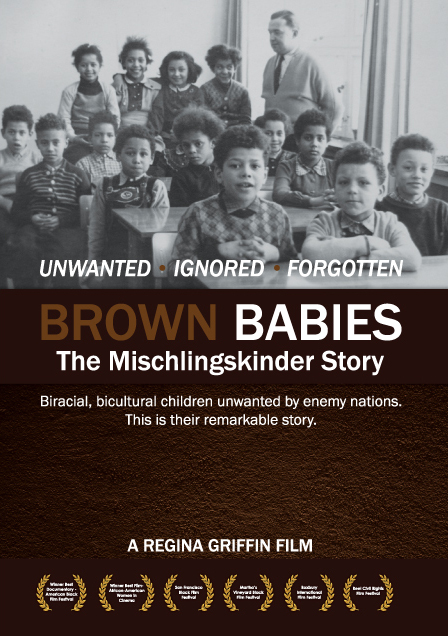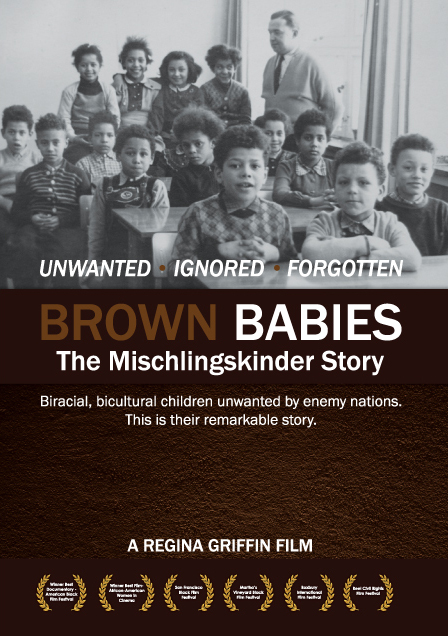 sale
Brown Babies: The Mischlingskinder Story (DVD)
Brown Babies: The Mischlingskinder Story reveals the tragic lives of biracial, bicultural children, unwanted, ignored and forgotten by enemy nations. Imagine being born in a place and time where racism and hatred run rampant, and your mother is white and German and your father is a black American serviceman. Brown Babies tells the painful and personal story of a forgotten piece of world history through eyes of the people who suffered most. Written, directed, and produced by Emmy award-winning TV News Executive Producer Regina Griffin, with original music by Bobby Burwell. Featured on CNN and Winner of Best Documentary, American Black Film Festival.
Individual Use: $34.95
Institutional/K-12: $195.00
Institutional/University: $295.00

Individual vs. Institutional Orders
Individual DVD Licenses - for individual/home use only.
Institutional/K-12 Licenses - for K-12 Schools, Public Libraries, and other select groups in one geographical location (does not include online institutions).
Institutional/Univ Licenses - for Universities, Colleges, and Corporations in one geographical location (does not include online institutions).
Online Institutional Licenses - please contact us directly at info@USAbrat.org.
Purchasers of Individual DVD Licenses may not resell or donate the film, or show it to large groups.
Institutional Licenses include limited public performance rights in classrooms, auditoriums, and libraries where no admission is charged. A library may circulate the DVD amongst its own members only, but it may not share the DVD with other libraries.
Both Individual and Institutional licenses are for non-theatrical, non-commercial, non-television (including cable, satellite, and closed circuit), non-internet use only.
These rules will be enforced to the full extent of the law.
 
DVD FORMAT
All DVDs are NTSC format (U.S.), but will play on European DVD players.
 
TO ORDER VIA SNAIL MAIL
Follow the ordering instructions in the shopping cart, print out your receipt and mail it, along with your check or money order made payable to Brats Without Borders, Inc., to:

Brats Without Borders, Inc.
P.O. Box 9186
Denver, Colorado 80209 USA
 
IF YOU'RE HAVING TROUBLE
If you're having trouble making a purchase, please describe the problem in detail to info@USAbrat.org or call us toll-free at 855-USA-BRAT (872-2728). Please do not leave your credit card number on our answering machine!
 
BRATS: Our Journey Home, BRATS Raw: Kristofferson & Schwarkzopf, and Brown Babies: The Mischlingskinder Story are protected by U.S. and international copyright laws. They may not be duplicated, reproduced, altered, broadcast (on television, cable, satellite, or closed circuit), loaned for a fee, sublicensed, shown in settings where admission is charged, transformed by analog or digital means or any other way without express written consent from the owners (Brats Without Borders owns the two BRATS films and Regina Griffin owns Brown Babies).

PRICES ARE SUBJECT TO CHANGE. ALL SALES ARE FINAL. EXCHANGES WILL BE MADE FOR DEFECTIVE MERCHANDISE ONLY. (Any amount overpaid will be considered a donation to Brats Without Borders, Inc.)